Independent College Advancement Associates | Established 1958
Awards & Opportunties
Learn about how the ICAA recognizes outstanding individuals and contributions to the college advancement industry.
Job Listings
View job advertisements for college advancement professionals submitted by our member organizations.
Membership Information
Join the ICAA or access the membership tools and features available to members by logging in.
Latest News & Updates
ICAA Site Log In
Please click here to log in to the site and enjoy your member benefits like registering for events!
Greetings from the ICAA President!
As professionals in higher education advancement, we wear many hats. We take on different roles in our offices as well as in life. We are employees, spouses, parents, community members, friends… the list goes on. In addition, we all want to help move our institution's mission forward, while meeting benchmarks and doing our very best work.
The mission of ICAA is to enhance the professional development of its members and their understanding of issues facing private higher education and institutional advancement. As I reflect on this past Summer Conference hosted in Columbus, I truly believe that we met our mission. This Summer Conference was filled with positive energy that I wish I could bottle up and take back to my institution. People were engaged, energetic, and ready to both learn and openly discuss issues in our shops and how we can work together to solve them. This is the power of ICAA: The willingness to share ideas with other institutions to help them move their mission forward and help students make the world a better place.
Thank you to a wonderful summer conference committee and executive committee. I am truly honored and humbled to be ICAA President in the upcoming year. I hope that you take advantage of the fantastic professional development one-day workshops we have planned this fall and spring, and please save time in your calendar next summer for the 2020 ICAA Summer Conference.
~Vickie
On behalf of the ICAA Summer Conference planning committee, thank YOU for inspiring us and we hope everyone enjoyed their Summer Conference experience!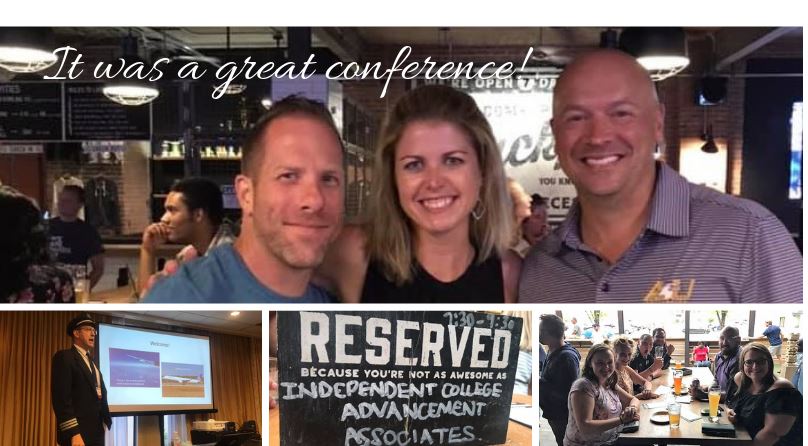 Stay Connected!
There are multiple options to stay connected to ICAA throughout the year. You can "Like" us on Facebook and follow us on Twitter, read our newsletter, and sign up for customizable advancement news emails powered by Cerkl.
Membership News
ICAA Annual Dues are now due on a rolling basis. Electronic reminders will be sent 30 days prior to when an institution's registration is set to expire. Annual dues are $125 per member-institution per year, and includes all staff members of that member institution. Dues may be paid by logging into your account. Paying online is quick, convenient and secure. We accept American Express, MasterCard and Visa. Thank you! Your Executive Committee works hard to give you an excellent value in membership and programming at an extremely affordable rate!
If your school is not currently a member institution of ICAA, there are many exciting things happening with our professional-development organization! Visit the membership link above to register your school as a member of ICAA.
Upcoming Events
There are currently no active events on the system. Please check back later.